Map Unavailable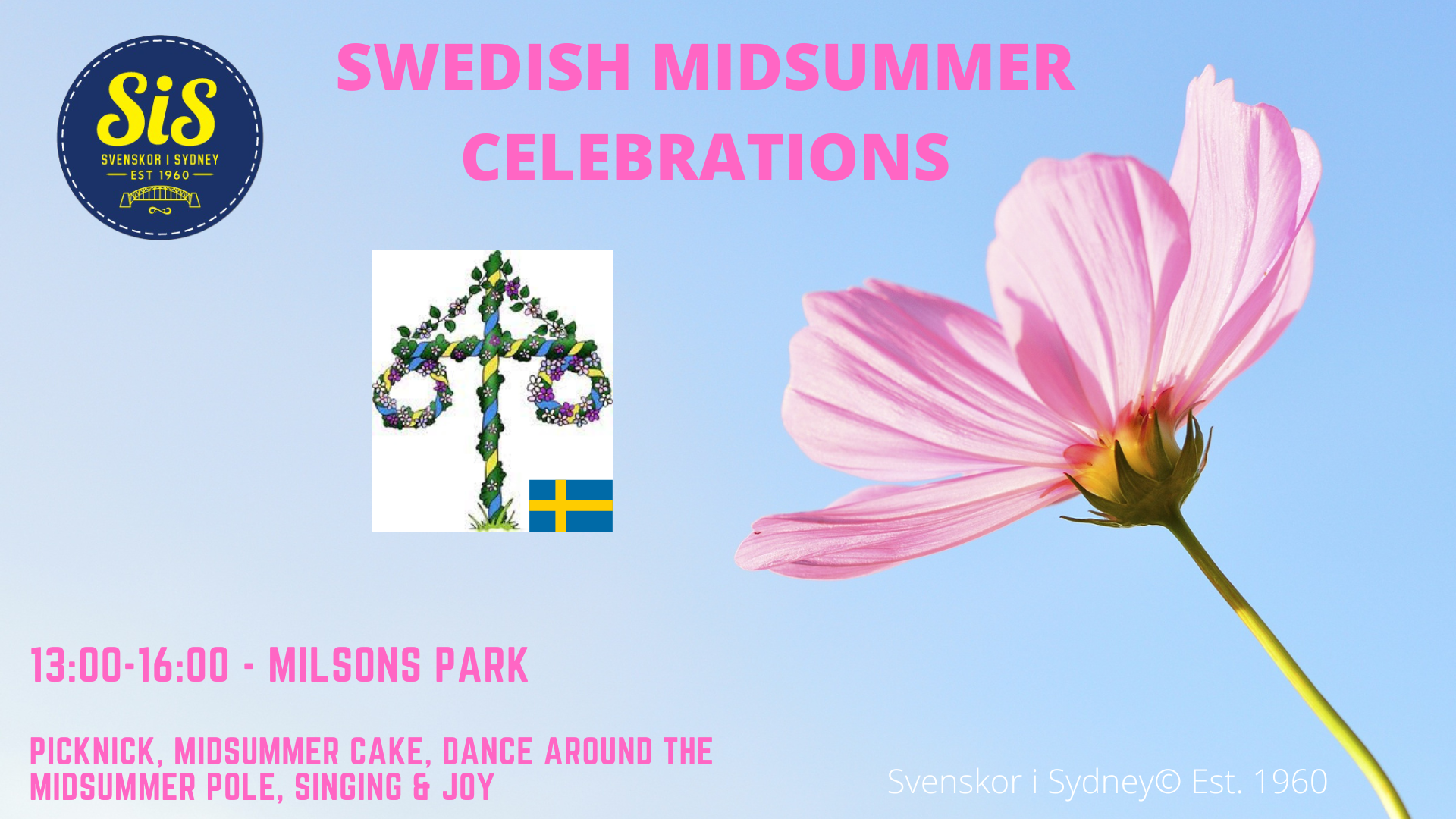 Let's celebrate Swedish Midsummer together in Sydney!
A traditional, Swedish Midsummer celebration is to gather and enjoy a picnic, with dancing around the Midsummer pole before or after. That's how we intend to celebrate Swedish Midsummer – with a lovely picnic together. Please bring flowers and greenery to decorate the Midsummer pole, if you are able to!
WHEN: Sunday June 25, 2023
TIME: 13:00-16:00
WHERE: Milsons Park (next to Ensemble Theatre), McDougall Street, Kirribilli New South Wales 2061. The park is quite large, we sit at the Community Garden which is easy to find.
What can I expect from the Swedish Midsummer celebration? What should I bring?
1. Picnic
Swedish Women in Sydney will be serving yummy Midsummer cake, Swedish brewed coffee or tea and fruit drink for the children.
If you want to, you can bring something more to eat – maybe even a gourmet lunch – do it! Or just come for a coffee! The main thing is that we see each other! NB! Bring something to sit on.
2. Outdoor games
3. A festive mood
4. Flowers and Greenery
In order to dress the Midsummer pole so that it looks nice and like a traditional, Swedish Midsummer pole, we need to dress it in flowers and greenery – so bring it along if you can and have the opportunity!
You are welcome to wear flowers in your hair (absolutely not a requirement!), bring a small Midsummer pole if you have one, or a flag. All small Swedish symbols that enhance the feeling of a Swedish Midsummer are welcome. Together we dress our Midsummer pole that fits in a public park – and most importantly – that is suitable for Swedish Midsummer dancing around it. A finer Midsummer pole has never been seen by 'the little frogs'!
Preliminary Schedule
We take it as it comes during the day but below are approximate holding times.
13:00-13:45 arrives and dresses the Midsummer pole
13:45-15:00 Picnic & FIKA
15:00-16:00 Dance and Games for children and adults
We will guide the little ones – they are in safe hands.
The times are approximate – if we're really having fun, we'll go a little longer.
How do we get to Milsons Park, Kirribilli?
Public Transport: 8-10-minute walk from Milsons Point train station.
Parking: Parking can usually be found on surrounding streets in the immediate area.
Toilets: Available in the park.
Registration & Payment
Pre-registration is essential and a prerequisite
Cost: $8 for adults – children free.
This includes: Midsummer cake, steaming Swedish brewed coffee or tea, fruit drink for the children – and lots of Midsummer fun!
RSVP: Thursday 22 June, no later than 12:00 (if you see this great event after RSVP, don't despair – contact us as below)
Registration & Payment: pre-registration is essential and a prerequisite, you register by clicking on the link HERE!
For questions please email us on svenskorisydney@gmail.com or send a SMS – 0474 883 018 or email svenskorisydney@gmail.com
Small print
Weather outlook: The weather outlook looks brilliant! Since we celebrate Swedish Midsummer, we say; if it rains, we cancel it, but if it only drizzles a little, we are on.
A very warm welcome!

SiS Board
Date/Time
Date(s) - 25/06/2023
1:00 pm - 4:00 pm